About the Library
Central Library of College of Engineering Munnar is sprawling over a carpet area of 470 sq.m with a three storeyed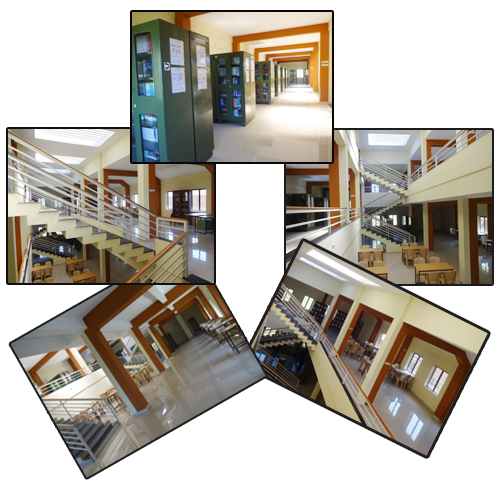 structure, Central Library of the institution stands ahead of time with ample spaces for reading, reference, e-learning and for technical services.  Its location, ambient climate, enriched with flora and fauna, cool breeze from dawn to dusk, clean air mixed with the pouring of mist make any academician to envy. Its an modern technical learning centre equipped with Gurukul style of academic pursuit for maintaining professional ethics.
Vision
Transforming the Institution No.1 in South India
To make the Central Library a Central Knowledge Hub for the technical and non-technical aspirants of the state.
Linking the Central Library to National Knowledge Network.
Make the library one of the biggest repositories in the state.
Linking with National Libraries of Western countries, state Public Libraries of India for knowledge sharing.
To provide advanced infrastructure for promoting the process of learning and research for making the teaching process a life long learning so as to strengthen our Higher Education sector.
To play a major role in knowledge tourism by providing traditional technical know-hows for the visiting inland and foreign tourists (conducting national and international seminars, workshops and conferences, etc.,)
Library Automation
Central Library is equipped with the latest WebOPAC software version of SOUL 2.0(Software for University Libraries).
e-Reference
e-Reference section is equipped with 40 Nos. of computers with 100 mbps high speed internet connectivity.  Users can also access E-Journals of various disciplines.
Reprography
Central Library is also provides photocopying, lamination and scanning services to the users.
Statistical Data

Special Collections

No. of Books
 11715
Competitive Examinations Guides and Manuals –
(GATE,GRE,CAT,AIEEE,JEE, AIPMT,SSC, UPSC, etc.,)
 70
Print Journals Subscribed
11
Book Bank
 255
E-Journals Subscribed
198
Foreign Languages Audio Cassettes/CD ROMs
 77
Back volume of IEEE Journals
179
Encyclopedia Britannica CD ROMs
 03
Interactive learning CD-ROMs
1279
 National Geographic
 08
Working hours
Monday to Friday : 8.30am – 5.00pm
Saturday                 : 9.00am – 4.00pm
Library Staff  Members
Mr. Sakthivelu V.   B.Sc, MLIS, UGC-NET
Mr. Pratheep R.      C.LISc