Ydyud – Association of Electrical and Electronics Engineering
The Department of Electrical and Electronics has formed the Association ' Ydyud ' with an aim to provide a platform for students to test and showcase their technical powers against the best in land and to bring together in the field of technology. It is driven by the motto Learn, Share and Grow. The Association was established on February 2006 and inaugurated by Dr. Sreeram Kumar, Professor, Department of Electrical Engineering, NIT Calicut.
As part of the association activity the department has been organizing various events every year. The main event 'astitva' which is an annual technical competition.The main events include Project presentation, Paper Presentation, Quiz, Circuit Debugging, Best Manager and so on. Ydyud also conducts seminars and brings in eminent people to interact with students to inspire them and widen their knowledge
Executive committee of Ydyud for the academic year 2015-2016
Office Bearers
President                                 -Mr. Biju K., HOD, EEE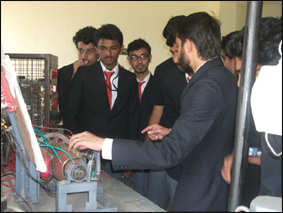 Staff Advisor                          – Mrs. Vidya Sojan
Chairman                                 – Browin Thomas
Vice Chairperson                    – Swathy V U
Treasurer                                 – Jithin K Mathews
General Secretary                  – Al Ameer P V
Members
Shahsad O K
Abinash G
Drishyasree
Jino Raju
Revathy Venugopal
                 The Association had organized an exhibition for first year students to demonstrate the basic concepts in Electrical Engineering. The exhibition included the familiarization of components in Basis Electronics Lab, working of measuring instruments in Electrical Measurements Lab and working of machines in Electrical Machines Lab.